Clyde Foles, Chair B.S., Art Center College of Design
Carl Olsen, Transportation Design Chair B.I.D., Pratt Institute
What do fine arts have to do with real-world products? The two are actually inseparable, as you'll discover in the Industrial Design department of CCS. We recognize that in today's marketplace, manufactured products - from teapots to tractors - must not only be useful, but also aesthetically pleasing and socially responsible. As an industrial designer, you'll work closely with marketers, engineers and other professionals to develop new products, acquiring the technical skills to improve products, and the ability to communicate your ideas graphically and verbally.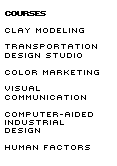 The Industrial Design program emphasizes a hands-on approach to solving design problems. You'll be immersed in every phase of design, from originating ideas to building 3D prototypes Ñ physical and digital Ñ while learning to recognize manufacturing and marketing realities and opportunities.
In your freshman year, you'll gain broad experience through a variety of departmental studio classes. After the first year, you'll choose a concentration. Entry to the transportation design section is limited and based on a portfolio review after the first year.
You'll get plenty of real-world experience: because of the department's extraordinary reputation, many Fortune 500 corporations regularly sponsor studio projects and offer internships. You'll solve real problems currently facing companies Ñ and learn to defend your solutions.
PRODUCT DESIGN
You'll apply the principles of industrial design to a wide array of consumer products, including motorcycles, personal watercraft, athletic footwear, contract furniture or self-serve kiosks. The emphasis of your studies will be on the creativity, utility, manufacturing process and human factors that lead to innovative and environmentally responsible products.

TRANSPORTATION DESIGN
It's widely acknowledged in the U.S. auto industry that CCS has one of the best transportation design programs in the world Ñ in fact, in 1997 the 12 graduates of the program received a total of 43 job offers from American, European and Asian automakers and suppliers. CCS alumni are leaders in the field: for example, the design team for Chrysler Corporation's all new full-size sedans for 1998 included Mark Hall Ô93, who helped design the exterior of the Chrysler Concorde, and Robert Boniface Ô93, who helped design the exterior of the Dodge Intrepid. You'll benefit from close ties with the nation's auto manufacturers and their major suppliers, as well as a forward- thinking curriculum that emphasizes social and environmental responsibility along with practicality, style and performance.